There are thousands of different service providers out there to choose from when searching for the best web hosting.
And they all come with varying degrees of features, performance, simplicity of use, and price ranges, not to mention varying discounts and savings when you check out.
These web hosting reviews will provide you with two key takeaways:
How to pick the best host
How to Save the Most Money at the Checkout with the Biggest Discounts (up to 90 percent )
I've been working in digital marketing for more than 10 years now, and over that time I've established websites, migrated sites, and handled more hosting providers than I can count.
Let's find you the most affordable and reliable web host, regardless of whether you're launching a blog, an online store, or a website for your neighborhood company.
Let's get started.
Disclaimer: This post contains affiliate links, which means that if you purchase a paid plan, I may make a small profit at no additional cost to you. I highly recommend these tools for hosting websites. Please refer to my privacy policy's affiliate disclaimer for additional details.
What is the Best Web Hosting?
The best web hosting services offer your website the speed, security, uptime, ease of use, and integrations it requires
My top choices are; Bluehost, Namecheap, GreenGeeks, HostGator, WP Engine, and Siteground.
Most hosting firms offer generous sign-up bonuses and make it simple to get started.
Here are my top recommendations for the best web hosting:
WordPress VIP
EasyWP
Cloudways
WP Engine
Siteground
Dreamhost
Liquid Web
Kinsta
A2 Hosting
Inmotion Hosting
1. Bluehost
Best Web Hosting Company Powering Over 2 Million Websites Around the World ($2.95/month)
Bluehost is my top hosting platform pick, as it comes with a free domain, free SSL, 1-click WordPress installation, FTP, and 24/7 customer support. Their plans begin at $2.95/month (a savings of 63%), and they provide a 30-day money-back guarantee.
They are an all-in-one platform designed specifically for WordPress that powers over 2 million websites. Their user-friendly interface allows you to sign in, select your domain, one-click install WordPress, select your themes, and build your site.
They began operations in 1996 and today employ over 750 people. They have a 99.99 percent uptime, making them an extremely dependable alternative.
Site performance will not be an issue with average load times of less than half a second. I used my WordPress site and their cheapest subscription, together with a few simple plugins, to boost my desktop site speed to 100 percent.
One of the most compelling features for me was their security and integration with Cloudflare, a content delivery network (CDN). This CDN protects against DDoS assaults and false traffic from a variety of sources.
Using a CDN speeds up your site by allowing you to host your online files on their global network of servers. This service reduces the amount of time it takes to retrieve data from your server based on the visitor's location.
Bluehost also connects with other software in their MOJO Marketplace if you're looking for extra features while reviewing other web hosting comparisons. Installing software, for example, is simple if a customer requires shopping cart software or e-commerce features.
Finally, they are the "official" web hosting platform suggested by WordPress.org, and you can read my full review here.
Here's how to kickstart:
Go to Bluehost.com and click the Get Started button.
Choose your preferred plan ($2.95/month is the cheapest).
Enter a new name or choose an existing one.
Enter your account information, account plan information, and billing information.
I would uncheck the add-ons Sitelock Security and Codeguard Basic
Click Submit and you're ready to go!
I recommend that you begin with their Basic Plan for $2.95/month, which is 63% off their standard price.
How to Save the Most:
Plan: $2.95/month Basic Plan
Term: 36 months
Total cost at checkout: $106.20
Savings: $181.44
2. Namecheap
Many Hosting Options and EasyWP ($2.88/month)
Namecheap is a corporation that was created in 2000 and maintains over 10 million domains. Domain registration, various hosting options such as shared, reseller, dedicated, VPS, and WordPress hosting start at $2.88/month.
They have a new service called EasyWP that allows you to set up a WordPress site in minutes for as little as $3.88 a month. I tried it myself and had a website up and running in less than two minutes.
All of their primary services include free backups, free website migration, 24/7 support, and a 14-day money-back guarantee.
Their shared hosting plan is slightly more expensive than the other cheap options on the list, but with the link below, you can get 50% off your first year and get started for $15.44 per year.
3. Domain.com
The All-In-One Solution with Marketing Support ($3.75/month)
Domain.com, founded in 2000, is a leading provider of domain registration and hosting services, specializing in low-cost websites, hosting, email, SSL certificates, web design, and online marketing.
Domain.com's WP Starter plan, which includes a custom control panel, unlimited storage, unlimited bandwidth, free pre-installed themes and plugins, and a.blog domain, starts at $3.75 per month. This subscription includes the W3 Total Cache plugin, which is an excellent caching plugin for website speed.
However, it also includes Jetpack, which has a plethora of complete WordPress capabilities, but I remove it due to site speed difficulties. If you start with the WP Starter plan, I recommend uninstalling Jetpack and replacing it with speedier plugins that give the same functionality.
Overall, Domain.com is a comprehensive website solution that is ideal for newcomers with little website experience.
I recommend their WP Essential plan, which includes specialized WordPress support and starts at $6.95 per month when you use my link below.
4. GoDaddy Web Hosting.
Best for Add-Ons ($5.99/mo)
GoDaddy is a web hosting provider that offers web hosting solutions for Windows and Linux users, and then assigns sites a unique DNS address that allows users to discover you online. Their options range from $5.99 to $89.99 per month.
Plans range from low-cost shared hosting to commercial hosting, VPS, and dedicated servers for maximum power and control.
One of their biggest features is Odin Plesk, a Windows control panel that helps you to manage servers, programs, and users. Their Economy plan allows you to host one website, whilst their Deluxe, Ultimate, and Maximum plans let you to host an infinite number of sites:
If you wish to migrate from another hosting provider to GoDaddy, you must upload your website files to their servers via the management panel or using FTP. They also provide useful virus scanners in case your site is attacked.
One thing that distinguishes them from other hosting services is that they keep their promise of handling all technical aspects of your site. They handle software updates, setups, and security fixes, ensuring that your website runs smoothly. Their customer service has greatly improved and will assist you if you have any issues.
GoDaddy has a few remarkable services that will help you learn more about WordPress site maintenance. While its features may not be sufficient for large corporations with high security requirements, they are enough for most individuals and small businesses.
Depending on the plan you select, you will receive a multisite management console and SSD storage. They shield you against DDOS attacks, and interactive walkthroughs should assist you in resolving simple WordPress issues.
If you purchase the annual plan, you will receive a free domain name registration as well as a staging environment to test any changes that are offered on certain plans. They provide a library of tutorial videos to assist novices in navigating amateurs who are unfamiliar with web hosting.
GoDaddy promises 99.9% uptime, which is the industry standard for hosting providers. You can buy the hosting for as little as $15 per month, but the storage options leave a lot to be desired.
Their beginning price of $3.66 is reasonable. Their support is provided by Media Temple, which was purchased by GoDaddy in 2013. The team is available via email, chat, or phone and will walk you through any issues you may be experiencing.
If you're just getting started, their Economy Plan is $5.99 per month for 36 months.
5. WordPress VIP
WordPress VIP is an enterprise – wide platform that powers some of the world's most popular websites, including CNN, People, Time, and Spotify. It genuinely lives up to the second half of its name, as it offers a number of features that most hosting services do not.
Aside from conventional features like one-click setup, faster speeds, and customizable panels, this package also includes advanced features like integration with Facebook Instant Articles and Google AMP. You will also receive multilingual assistance and integrated A/B testing.
That being said, this hosting plan is best suited for established websites that require specialized technologies to stay competitive. As a result, their service is highly selective, and you cannot simply sign up for an account at any moment. You must submit an application, which will be assessed by the technical team before they respond to you.
Because they personalize services to unique website requirements, there are no set fees for the hosting service. This way, the price plan will be determined by what is optimal for that specific site. Standard installations, according to our experience, vary from $2,500 to $5,000 monthly and support up to five websites with massive resources.
Aside from that, they impose a one-time installation cost of around $10,000 for new websites.
WordPress VIP has everything a web professional could want, but for the typical website owner, all of these advanced functionalities and fantastic features are overkill. The cost is also a significant barrier, and no small business would be willing to pay that. It is just a VIP option for WordPress users that elevates their web services to the next level.
6. EayWP
Namecheap is recognized as one of the most successful companies offering domain and hosting services on the internet. EasyWP is their most recent managed WordPress hosting service, filling a gap in their collection that has existed up to this point.
Following their entry into the platform, it would appear that they are living up to their name.
You can have WordPress up and running with just one click with EasyWP, and you won't have to bother with the control panel or any complicated configurations. You will have a better user experience overall, in addition to saving money and time by utilizing it. The cloud servers are very up to date and can easily manage large numbers of visitors.
They provide three distinct tiers of service packages, which are referred to as the EasyWP Starter, EasyWP Turbo, and EasyWP Supersonic packages respectively. The most affordable option is the basic package, which provides you with 10 GB of storage space and allows you to manage up to 50,000 followers per month.
The initial payment is $1, and subsequent payments are $3.88 per month following the initial payment. The Turbo plan has a one-time fee of $2, followed by $7.88 per month and a one-time annual fee of $34.88. It has a storage capacity of 50 GB and can accommodate 200,000 unique visitors per month.
The supersonic plan includes 100 GB of storage space and has the capacity to manage 500,000 visitors each month. After an initial investment of $3, the monthly fee is $11.88, and the yearly fee is $49.88 if you pay in full:
You must either sign in with an existing Namecheap account or create a new one to begin. Then decide whether to use an existing website or start a new one:
After that, you press "Continue" to open your website. The theme you're using is one of the sophisticated options you can select, but it is truly one-click. In just 30 seconds, I set up my WordPress website.
You will receive free access to sFTP files as well as a temporary domain. Finally, you can manage all of your sites from a single dashboard.
If you wish to do so, you may also easily optimize, backup, and restore your database inside of WordPress using the Easy WP Optimizer WordPress plugin.
7. Cloudways
Best Managed Cloud Hosting ($12/month)
Cloudways makes use of a cloud platform that is scalable, and which was designed with speed and ease of use in mind. Cloud hosting, which differs from shared web hosting in that it gives you more dedicated resources, can improve both the speed and the stability of your website.
It enables PHP developers to deploy containerized applications in addition to other advanced features, making it a powerful hosting service for web developers. Cloudways supports a large number of other high-performance technologies in addition to PHP7, such as HTTP/2, Nginx, and Redis.
Any and all Cloudways customers have the ability, at any time, to add cloud servers to their existing accounts. You may also set up a virtual cloud server in under a minute. It should come as no surprise that the content management system (CMS) used the most frequently with Cloudways is WordPress, followed by Drupal and Magento.
They also offer SSL certificates that come with domain mapping if you are concerned about your data's safety.
Cloudways is a good choice if you are an experienced web developer who desires greater control over the content of your website.
Key Features:
Server Monitoring Dashboard keeps an eye on how well all of your servers are doing in order to ensure that your website is always accessible to users.
The content of your website is cached on a Content Delivery Network when you use CloudwaysCDN Integration, which speeds up the time it takes for your website to load.
The Application Monitoring Dashboard provides you with in-depth insights into how your apps are performing.
IP Whitelist enables you to boost the level of security in your network by whitelisting specific IP addresses.
User Experience:
The Server Management Dashboard is simple to use and provides a wonderful experience for its users in a variety of contexts, including the creation of new members, the verification that the appropriate permissions have been assigned, and the monitoring of the performance of your servers and applications.
Pricing:
Pricing is graded depending on the server specifications that you select as well as the cloud provider that you go with. It begins at just $12 per month, and there is a free trial period of three days. Although it appears to be a brief trial, you will actually have sufficient time to explore the platform and evaluate its capabilities.
What I like and dislike about Cloudways:
Like:
Cloudways provides you with usability right out of the box. There is nothing that needs to be installed or configured on your end; all you need to do is register an account, choose the application and server that you want to use, and you are good to go.
Additionally, the performance is really good, which means that site users do not need to wait very long for the pages to load.
Dislike:
You won't be able to host DNS for free there, therefore you'll have to rely on a third-party service.
Product Updates:
The SafeUpdates feature of WordPress has finally been released to the general public. If something goes wrong when you upgrade a plugin, theme, or even WordPress itself, you may easily and quickly revert to an earlier version that was functioning correctly.
8. Nexcess
Best Managed WordPress Hosting ($19 per month)
Nexcess is a fully managed WordPress hosting company that hosts over 500,000 websites. They also host a range of other platforms, including e-commerce stores.
Nexcess is an excellent choice for eCommerce organizations because it includes everything required to manage dynamic sites. Even with the cheapest plan, you receive 2TB of bandwidth, a free SSL certificate, automated image compression, PHP 7 support, and so on.
Furthermore, all of their plans provide free WordPress migrations.
You don't need any special abilities to develop a WordPress website, either, because Nexcess includes stencils to help you get started quickly.
If you have any questions, you can always contact their customer service. Every day, WordPress specialists are available by phone or live chat.
Other key features include:
Advanced caching.
Daily backups.
Image lazy loading.
Unlimited email accounts.
WordPress core updates and WordPress plugin updates.
One-click staging site (clone of your live website).
A built-in CDN with 22 locations.
Unlimited traffic.
Always-on security monitoring.
24/7/365 customer support.
Additionally, Visual Regression testing is available to ensure that system updates do not impact your code structure or features.
Additionally, the hosting plans include iThemes Security Pro, WP Merge, Visual Compare, iThemes Security Pro, TinyPNG, and Qubely Pro plugins.
Pricing Structures:
Nexcess offers seven pricing plans:
Spark – $19 per month (1 website, 15 GB storage, 2 TB bandwidth)
Maker – $79 per month (up to 5 sites, 40 GB storage, 3 TB bandwidth)
Designer – $109 per month (up to 10 sites, 60 GB storage, 4 TB bandwidth)
Builder – $149 per month (up to 25 sites, 100 GB storage, 5 TB bandwidth)
Producer – $299 per month (up to 50 sites, 300 GB storage, 5 TB bandwidth)
Executive – $549 per month (up to 100 sites, 500 GB storage, 10 TB bandwidth)
Enterprise – $999 per month (up to 250 sites, 800 GB storage, 10 TB bandwidth)
Follow this link to get 50% off the first six months on all of the pricing plans.
9. Hostpapa
Fast, Reliable Web Hosting for Small Business ($3.95/month)
HostPapa provides everything a small business needs to run its website and is currently offering a 70% discount on its plans.
These services include hosting, domain registration, 400+ business apps to connect to, and the choice of using an easy drag-and-drop website builder or installing WordPress, depending on your preferences.
HostPapa offers three major plans ranging in price from $3.95 to $11.95 per month. You'll want to make sure you turn off their other extras at checkout, which will cost you an extra $39.90 every year.
The Business Plan (on sale for $3.95/month) is their most popular plan, and it includes unlimited websites, unlimited SSD storage, and unlimited bandwidth.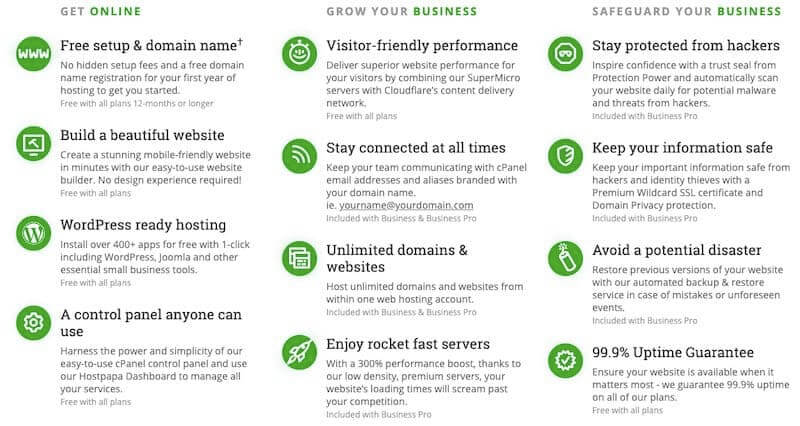 How to Save the Most:
Plan: Business at $3.95/month
Term: 36 months
Total cost at checkout: $106.20
Savings: $433.44!
10. GreenGeeks
Best Green Web Host ($2.49/month)
GreenGeeks has over ten years of experience as an environmentally friendly web host. They provide a 99.95% uptime guarantee with load times of less than 500ms.
They have data centers across the United States, Canada, and the Netherlands, notably in Chicago, Phoenix, Toronto, Montreal, and Amsterdam, indicating a strong international presence.
If you're looking for an environmentally responsible web host, they're an intriguing option.
GreenGeeks says they purchase three times the quantity of wind energy credits required to account for the energy utilized to power their platform. They are a Green Power Partner of the United States Environmental Protection Agency (EPA).
When you sign up for their services, you get limitless file storage, bandwidth, and email accounts, as well as outstanding performance – and a free domain.
And, unlike some other hosts, they don't simply install WHM/cPanel on a dedicated server and call it a day — they go far more profound.
They have an exciting option called hosting account isolation setup.
They use a VPS, container-based approach to provide accounts with dedicated computing resources and a secure virtual file system (Secure vFS). Secure vFS prevents accounts from accessing other accounts, protecting your site from viruses and other harmful activity.
They charge a little higher $9.95 renewal fee than the $2.95 introductory price for Eco-Site Lite, but you can lock in the price for three years.
With their offer code 10YEARSGREEN, you'll pay $116.15 at checkout and save $252.00 (70 percent off).
How to Save the Most:
Plan: EcoSite Lite at $2.95/month
Term: 36 months
Total cost at checkout: $116.15
Savings: $225.85
11. Hostinger
Fast and Affordable at a 90% Discount ($2.59 monthly)
Hostinger is a fantastic hosting service because of its speed and low cost. They're presently providing a massive 90% discount on premium plans, which start at $2.59 per month. For $47.52, you can buy four years of site hosting.
Hostinger enables developers to learn to code and experiment with PHP, FTP, cPanel, and MySQL without incurring additional costs. By utilizing free hosting services and studying PHP, you may experience building free WordPress sites while honing your skills.
Hostinger is a good choice for newcomers. You can learn to develop free WordPress sites while honing your talents.
They offer a very knowledgeable 24/7 multilingual (20+ languages) Customer Success Team renowned for responding to live chat requests in less than two minutes.
Additionally, they are one of the quickest web hosting providers, with an average page load time of fewer than 200 milliseconds and a 99.9 percent uptime guarantee.
Hostinger uses a proprietary, easy-to-use control panel called hPanel. The style is uncomplicated and straightforward, which is exactly what you want when building a website. Additionally, they are now conducting a significant promotion that includes complimentary SSL certificates and domains.
Hostinger offers a free WordPress site with a one-click installation, allowing you to begin blogging for free in minutes. Additionally, they offer their Zyro website builder, which has thousands of templates.
Key Features:
With Cloudflare's content delivery network (CDN), your website will be cached on servers all over the world, ensuring that it loads quickly for visitors no matter where they are located.
If you're using a daily backup system, you can rest assured that your data is always protected.
With unlimited bandwidth, you can send and receive as much data as you like without worrying about exceeding your plan's data quota and incurring extra fees.
With an unlimited database size, you can keep as much information as you want.
To let you focus on writing, Managed WordPress means that Hostinger will handle all the behind-the-scenes work involved in maintaining a WordPress site.
User Experience:
Hostinger's UI is simple and straightforward, with all the essential options available from a left-side menu.
You may quickly navigate to the desired product selection by browsing the available tabs, each of which contains a different set of available choices.
In order to begin using their services, all you need to do is…
Access the site at hostinger.com, and then select the Get Started button.
Select a hosting package; the $0.99/month plan for 48 months offers the best value.
Put in your email address and make a password.
Go with WordPress or create your own.
Make some changes, and then put up your website for public viewing.
I highly recommend getting started with Hostinger for $0.99 a month ($47.52 for four complete years of hosting) if you're looking for a robust host on a budget with one of the fastest loading times and an unbelievable 90% discount.
My likes and dislikes regarding Hostinger:
Like:
For larger enterprises, having multiple FTP accounts allows you to grant various users access to different parts of your website.
You may start using it right away because the user interface is clear and simple to understand.
If you want your website to load rapidly for visitors in that region, you can select the server of your choice.
You can begin using Hostinger today without breaking the bank thanks to the reasonable prices.
Dislike:
Their system of support is a little underdeveloped and may be enhanced.
Updating Products:
No matter where users are located, your site will load quickly if you place an emphasis on loading speed.
The Best Ways to Save:
Plan: Single Shared Hosting at $0.99/month
Term: 48 months
Total cost at checkout: $47.52
Savings: $432
12. Hostgator
Best Low-Cost Web Hosting ($2.78/month)
HostGator is a well-known Houston-based hosting business that hosts over 9 million websites. They are one of the most affordable solutions available, with 36-month subscriptions starting at $2.78/month and savings ranging from 30-60%.
To learn more, check out my comprehensive comparison to Bluehost and review vs. GoDaddy. In terms of price and feature set, they compare favorably to GoDaddy and website builders like Squarespace, as seen below:
Their speed on average can be measured at just a hair under one second; therefore, they are not the quickest option, but they are faster than average. They also achieved a 99.98% uptime, which is higher than the average uptime of 99.94% found in the industry.
They make the process of creating a website simple by providing a drag-and-drop interface and the option to add an infinite number of domains to your account. In the first thirty days after you join up for their service, they will also aid you with free migrations.
HostGator provides customer care around the clock by live chat, email, and telephone, and their response times are generally satisfactory.
Key Features:
Installing WordPress with a single click makes it simple to launch a website powered by the platform.
Transferring your existing WordPress or cPanel website to HostGator is completely free of charge because to the company's generous free website transfer policy.
You may optimize your website for search engines with the use of free SEO tools.
Your website will be seen as more trustworthy by site visitors if you take advantage of the free upgrade to Positive SSL.
The free dedicated IP address provides you with an individual IP address that is not shared with any other websites, which can help to improve the performance and security of your website.
User Experience:
Using HostGator makes it simple to monitor how well your website is doing because it has a menu that is solely devoted to displaying server statistics.
The user interface is straightforward and provides all the information that is required to get started with the program.
In addition, there are shortcuts available that provide you quick access to the most often used functions. You can use these to get started right away.
Pricing:
They have three primary programs available, and those are Baby, Hatchling, and Business. Plans at higher tiers come with dedicated IP addresses as well as SEO tools to help you expand your online visibility.
If you aren't happy with your purchase, they will refund your money and give you an additional 45 days to do so.
How to get started is as follows:
Go to HostGator.com and click Get Started.
Choose a domain (or add one you own).
Pick your billing cycle. For the most savings, select the $2.78/month plan for 36 months.
Enter your billing info.
Click Checkout and you're all set!
I strongly suggest that you give the Hatchling plan a shot, as it only costs $2.75 per month to get started.
My likes and dislikes regarding Hostgator:
Like:
A multitude of tools and user interfaces make it simple to locate the information you require.
An inexpensive option that has the potential to reduce your expenses over time.
The user interface is intuitive and simple to operate.
Dislike:
Sending emails in bulk can be a bit tricky and time-consuming
How to Save:
Plan: Hatchling at $2.75/month
Term: 36 months
Total cost at checkout: $100.08
Savings: $150.12
13. WP Engine
Best Professional and Enterprise Hosting ($31.50/mo)
WP Engine is a managed hosting firm situated in Austin, Texas, that focuses on speed, security, and scalability. Their Managed hosting is designed exclusively for WordPress sites and is more expensive. It's not quite hosting, but rather dedicated services to keep your WordPress site running.
WP Engine excels in site speed.
While some providers may have customized servers, installing a large number of WordPress plugins can still cause problems. WP Engine, on the other hand, has a network of servers with more aggressive caching than other providers. Because their caching is so tailored, you are not permitted to install other cache plugins in WordPress.
WP Engine performs regular backups of your files to ensure your peace of mind. They also provide dependable customer support and high-end custom plans for businesses. However, if your requirements are not as advanced, you must consider the pros and cons.
Their entry-level package starts at $31.50 per month and includes 25k visits per month, 50GB of bandwidth, CDN and SSLs, and sophisticated performance tools. Each program includes a content delivery network (CDN) for faster load times and staging environments for testing changes before going live.
If you're looking for one of the top premium managed web hosting companies, try WP Engine out and save 10% on your first payment.
How to Save:
Plan: Startup at $31.50/month
Term: Monthly
Total cost at checkout: $31.50
Savings: $3.50
14. Siteground
Best Client Satisfaction ($3.95/month)
SiteGround has been providing hosting software since 2014, and they take pleasure in providing excellent customer service. In 2018, they had a client satisfaction score of 98%, and they answer to phone calls in seconds, support tickets in 10 minutes on average, and are available 24/7 through chat.
Aside from customer support, SiteGround consumers benefit from high performance, with an average uptime of 99.99% in 2018. They designed their platform using Linux containers, which are extremely robust even during random traffic spikes. They also offer amazing page load times of less than 750ms.
If you don't want to pay for 3+ years, they offer the most significant reductions on one-year agreements. Basic plans start at $3.95/month (plus a $14.95 setup cost) and include a free Let's Encrypt SSL, daily auto backups, unmetered traffic, and up to 10,000 visitors per month.
If you're weary of poor service and want to work with the industry's best customer support team, give SiteGround a try now. You can also compare these two web hosting giants by reading my entire SiteGround vs Bluehost review.
How to Save:
Plan: StartUp at $3.95/month + $14.95 setup fee
Term: 12 months
Total cost at checkout: $62.35
Savings: $81.53
15. Dreamhost
Fast, Secure Web Hosting with Purpose ($2.59/month)
DreamHost is a WordPress hosting provider that maintains over 1.5 million sites globally. They provide a 100% uptime guarantee as well as a 97-day money-back promise.
For enhanced protection, all sites have a free SSL certificate and the WordPress firewall. VPS Basic offers each user with two virtual private servers to improve speed, scalability, and performance.
To increase performance even more, they have several cache layers, auto-scaled RAM, and these separated servers.
In addition, every DreamPress platform customer receives server cache and a static IP address. As a proxy with the Apache and PHP WordPress stack, these servers reply to web requests extremely quickly.
The DreamHost Shared Starter plan is available for just $2.59 a month.
Sign up first and input your domain information. Next, uncheck Dreamshield Protection and 1 Mailbox if you don't require email right now.
How to Save the Most:
Plan: Shared Starter at $2.59/mo
Term: 36 months
Total cost at checkout:$93.24
Savings: $99.91
16. iPage
One-Size Fits All Hosting Best for Local Businesses ($1.99/month)
IPage is a great platform for developing, promoting, and expanding your small business website due of its affordable options and simple website features.
Because it comes with a website builder and access to WordPress or Weebly, which enables anybody to create an e-commerce site, it's a respectable option for small local companies on a budget.
If you're searching for one of the most affordable solutions on the market, I don't advise utilizing Weebly or iPage for e-commerce. The entry-level collection of e-commerce features provided by iPage, together with its reliable performance, give you everything you need to get started online right away.
A free web store, PayPal connection, and six different shopping cart software alternatives are all included.
Only six pages may be added to their website using the builder. However, they interface with content management systems (CMS) like Joomla and WordPress and feature hundreds of templates and themes.
Additionally, they provide a free custom website, email account, and $200 in cost-free search engine advertising credits.
Additionally, the link below entitles you to 70% off hosting and a free domain registration for just $1.99 per month.
How to Save:
Plan: Web hosting plan at $1.99/month
Term: 36 months
Total cost at checkout: $71.64
Savings: $216
17. Liquid Web
Best Fully-Managed Web Hosting and Phone Support for Business ($19.33/month)
Liquid Web is well-known for providing completely managed hosting services, which is the primary reason behind the company's slogan, "all the managed hosting you'll ever need." Continue reading this article if you want to collaborate with the "most helpful folks in hosting" and ensure that you will never have to worry about upgrading a plugin again.
First, they promise a response time of 59 seconds or less, and their customer service is available around the clock. It passed the test each time I put it to the test, which was a total of three times. The very first time I dialed the number, I was connected to a genuine, live person in just under a minute. A total of 32 seconds was required for the second time. Finally, the third time was 48 seconds, which was just barely enough to make it.
If you are seeking for a range of various hosting solutions, Liquid Web offers over 6 distinct hosting options, based on your specific requirements:
You can get started with a new site on their Managed WordPress hosting for as little as $19.33 per month. One website, 20 GB of solid-state drive (SSD) storage, 5 TB of bandwidth, a free staging environment, and monthly backups are all included with this package.
Liquid Web is an excellent choice for your cloud or virtual private server (VPS) hosting requirements whether your company is either small or medium-sized.
Here's How to Save:
Plan: Managed WordPress Hosting – Personal (Annual) at $19.33/month
Term: 12 months
Total cost at checkout: $232.00
Savings: $116.00
18. Kinsta
Best Premium WordPress Hosting with Migration Support: ($25/month)
Kinsta was established in 2013 with the sole intention of building the most advanced WordPress platform available anywhere in the globe. Their major focus is on collaborating with WordPress professionals to provide hosting solutions that set the standard for the industry in terms of performance, security, and stability.
They provide a robust and user-friendly dashboard that allows you to browse many sites at once, generate analytics data, administer users, and monitor your utilization of various resources.
The Kinsta Starter Plan includes 1 WordPress install, 20,000 site visits, free SSL and CDN, and 5 GB of disk space for a monthly fee of $30 (or $25 if paid annually). Additionally, this plan provides free SSL and CDN.
They have a tier with 10 different plans available for you to choose from if your company is more significant and needs to increase your hosting as it grows. These things boost the number of websites you have, as well as the SSD storage you have and the monthly visits you get.
Every package comes included with free unlimited migrations from a variety of hosts, automated daily backups, manual backup points, round-the-clock customer assistance, and a white-labeled plugin for their cache.
After selecting their Pro Plan, which costs $60 per month, you are entitled to additional hosting options, such as their free "White Glove Migrations." These capabilities enable you to fill out a form, after which their team of engineers will set up your website for you at no additional cost.
Kinsta is an excellent option to consider if you place a high priority on the speed and safety of your WordPress site. Kinsta is an excellent choice if you own a development agency and want to host several client websites while still having the ability to scale up as your business does.
Here's How to Save:
Plan: Starter (Annual) at $25/month
Term: 12 months
Total cost at checkout: $300
Savings: $60
19. A2 Hosting
Fastest Web Hosting with a 51% Discount ($3.92/month)
A2 Hosting was founded in 2001 in Ann Arbor, Michigan, and is regarded as one of the fastest web providers. They aid with speed – a crucial Google ranking element – by using turbo servers to provide consumers a free 20x page load time.
Not only does site performance effect rankings, but it may also affect bounce rate, time on page, and conversion rates. Site speed is one of the most important factors to consider when selecting the finest web hosting.
Like many other hosts, you may install WordPress, Joomla, Drupal, and other content management systems with a single click (CMS). They also provide free migration services, free SSD, SSH, PHP 7, and global servers to store your data and swiftly distribute them to web users worldwide.
A2 Hosting supports Linux and Windows and provides a variety of SSL certificates such as Let's Encrypt, Single-Site, Wildcard, Premium SSL, and Advanced SSL.
At the link below, you can get started with A2 Hosting for just $3.92 a month (51% off) instead of their usual $7.99 per month.
How to Save:
Plan: Lite Web Hosting at $3.92/month
Term: 36 months (3 years)
Total cost at checkout: $140.94
Savings: $146.70
20. Inmotion Hosting
Cheapest Managed WordPress Hosting ($4.99/month)
A hosting platform you can rely on, Inmotion Hosting has a 15-year CNET certification and an A+ rating from the Better Business Bureau. They provide a variety of hosting options, including shared, dedicated, reseller, virtual private server (VPS), cPanel, WordPress hosting and integrations, as well as various free tools that assist with online sales.
They have quick response times, secure servers, bespoke firewalls, and DDoS protection.
Their 37% off shared plans begin at $4.99 per month. You get one website, 40GB of solid-state storage, up to 20,000 monthly visits, and limitless emails with this WordPress plan.
Their controlled security, managed updates, and performance optimization are what they are most known for. Automatic backups and virus prevention are both included in security management. Speed improvements include free SSD storage on the Cloud Linux platform with NGINX and PHP 7, as well as 10x quicker speed than typical shared plans.
Overall, Inmotion Hosting is a wise choice if you want a WordPress site that loads quickly without breaking the bank. A hassle-free 90-day money-back guarantee is also offered.
How to Save the Most:
Plan: WordPress Hosting WP-1000S at $4.99/mo
Term: 36 months
Total cost at checkout:$179.64
Savings: $108
20. AccuWeb Hosting